SDSS-V: Pioneering Panoptic Spectroscopy
Multi-object Spectroscopy: all-sky, optical and near-IR, multi-epoch
Integral Field Spectroscopy: 3000 deg2, optical, ultra wide-field
Image Credit: Juna A. Kollmeier and Hans-Walter Rix
We would like to introduce you to the fifth generation of Sloan Digital Sky Surveys: SDSS-V. Although SDSS-IV is still on-going and will keep collecting and publishing data until 2020, SDSS-V will then be continuing the Sloan Survey tradition with a new, pioneering panoptic spectroscopic survey. SDSS-V will be the first facility for optical and IR multi-epoch, all-sky spectroscopy, as well as offering a contiguous integral-field spectroscopic coverage of the Milky Way and Local Volume galaxies for the first time. Our White Paper,
SDSS-V: Pioneering Panoptic Spectroscopy
, contains a full description of our planned survey.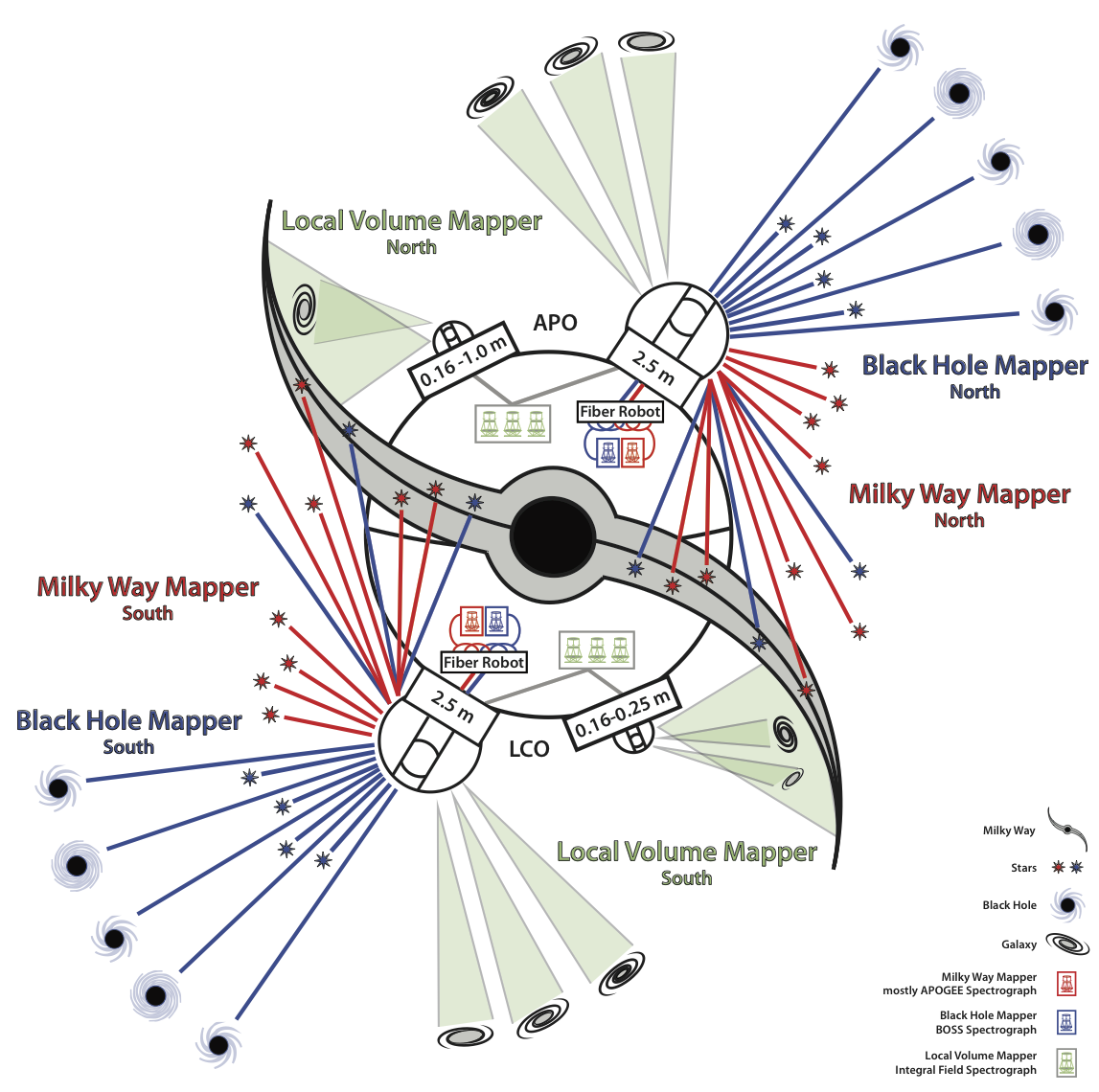 Overview
SDSS-V will be an all-sky, multi-epoch spectroscopic survey, yielding spectra of over 6 million objects during its lifetime. Using the SDSS facilities at Apache Point Observatory and Las Campanas Observatory, SDSS-V will survey the entire sky, by mapping the Milky Way using rapid, wide field, repeated observations, mapping Local Volume galaxies using wide integral field spectroscopy, and mapping black holes using time domain spectroscopy of quasars. SDSS-V will make use of a new, robotic positioning system to allow for rapid configuration of fibers, that will lead to the existing APOGEE infrared and BOSS optical spectrographs. In addition, new wide-field integral-field units will be deployed to observe the stars and interstellar medium in the Milky Way, Magellanic Clouds, and local galaxies such as Andromeda with unprecedented spatial resolution.
More information about SDSS-V, and its place in the astronomical landscape post 2020, can be found in our White Paper: SDSS-V: Pioneering Panoptic Spectroscopy.
Surveys
SDSS-V consists of three surveys:
The Milky Way Mapper (MWM) will target over 6 million stars across the Milky Way, collecting infra-red spectra with the APOGEE spectrograph and fiber-positioning system, in order to understand the formation of the Milky Way and the physics of its stars and interstellar medium.
The Black Hole Mapper (BHM) will target over 400,000 sources, primarily black holes, with the BOSS optical spectrograph, with the goal to probe black hole growth and map the X-ray sky.
The Local Volume Mapper (LVM) will observe the interstellar medium and stellar populations in the Milky Way and local galaxies, collecting more than 25 million contiguous spectra over 3,000 square degrees on the sky. The LVM will use newly built integral-field spectrographs, and will explore star formation and the physics of the interstellar medium.
Click on the mapper buttons below for more details on each individual survey.
Milky Way Mapper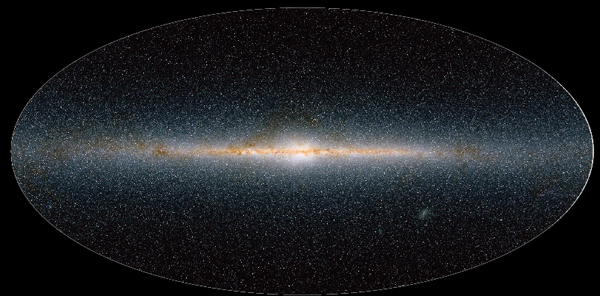 Black Hole Mapper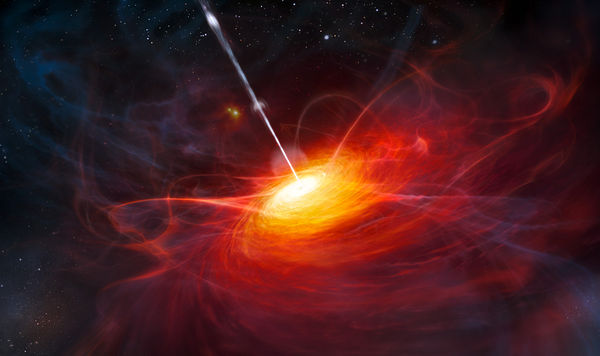 Local Volume Mapper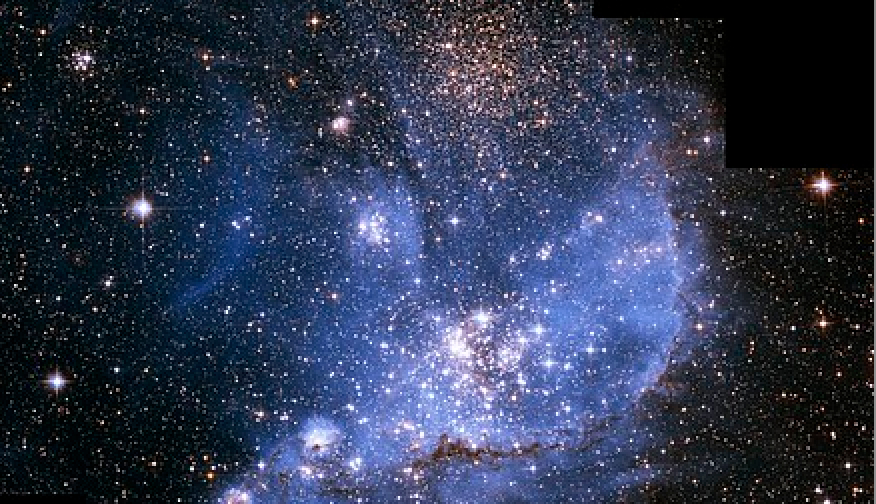 Join us!
SDSS-V, like previous Sloan Surveys, will remain committed to making its data publicly available in a format that is helpful to a broad range of users, from the youngest students to both amateur and professional astronomers. However, this commitment is not possible without contributions from institutional partners: SDSS-V is currently under development, and actively seeking funding from partners. Institutional partners benefit from early access to data, participation in the survey planning process, and through involvement of its faculty, postdocs, and students in the science collaboration.
Policies for joining the program can be found in the Joining Document, and special policies for those joining both SDSS-V and SDSS-IV can be found in the Joint SDSS-V and SDSS-IV Membership Document. The general policies for SDSS-V are defined in its Principles of Operation.
Leadership and contact information
The project is led by Director Juna A. Kollmeier (Carnegie Observatories) and Project Scientist Hans-Walter Rix (Max-Planck-Institut für Astronomie), with support from their Management Committee and the SDSS-V Steering Committee.
For more information about SDSS-V, please contact: Director Juna Kollmeier, jak@carnegiescience.edu.