'Chandra Source Catalogue'
Summary
The Chandra Source Catalog (CSC) followup program uses SDSS-V spectroscopy to characterize the optical/NIR counterparts of Chandra X-ray sources. Spectra will provide redshifts and source classifications for AGN, galaxies and stars with active X-ray emission detected in the Chandra Source Catalog that have been matched to counterparts in the PanSTARRS-1, Gaia DR2, and 2MASS catalogs. Chandra X-ray imaging provides excellent sensitivity and unparalleled spatial resolution, unveiling a different population of sources than other X-ray missions.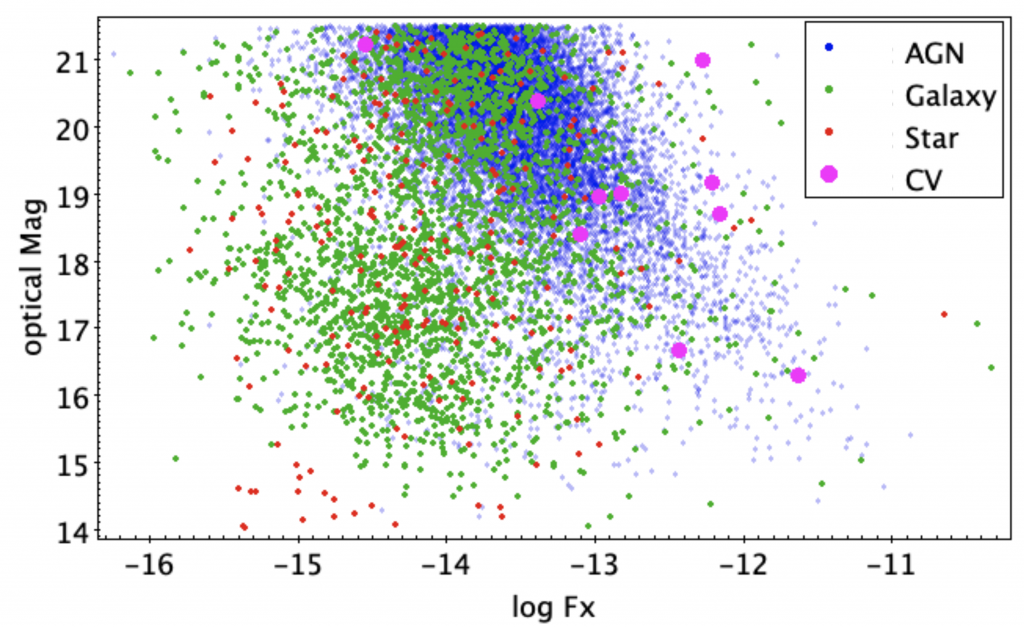 ---
Observational goals and requirements
The BHM CSC project seeks to gather optical and IR spectroscopy for a large sample of X-ray selected sources discovered (mostly) serendipitously via uniform processing of the Chandra data archive – the Chandra Source Catalogue version 2.0.
For the majority of the CSC sources, the immediate goal is to obtain redshifts and classifications for the optical counterparts to the X-ray sources (selected from the PanSTARRS1 and Gaia DR2 catalogues). For a smaller subset of CSC sources, the X-ray detections are associated with NIR-bright 2MASS objects. For these targets, expected to be Galactic stars, we aim to collect APOGEE H-band spectroscopy for classification purposes.
---
Target selection and survey implementation
The BHM CSC program is implemented as two 'cartons' – one for objects which require optical (BOSS) spectroscopy, and one for objects to be targeted with APOGEE NIR spectroscopy.
CSC targets with existing SDSS archival spectroscopy are de-prioritized w.r.t. unobserved targets
BOSS exposure time requests (cadences) are determined according to apparent magnitude, based on past experience obtaining redshifts for counterparts to X-ray sources.
Further details of the algorithms and criteria used to select CSC target cartons are given in the links below.
---
Target selection generation v0.5.3
The v0.5.3 generation of targeting was used during initial SDSS-V/FPS operations, below is a list of CSC cartons it includes:
---
Spectroscopic data released in DR18
No new CSC data is released in SDSS DR18
---
Back to Black Hole Mapper Science Programs
---