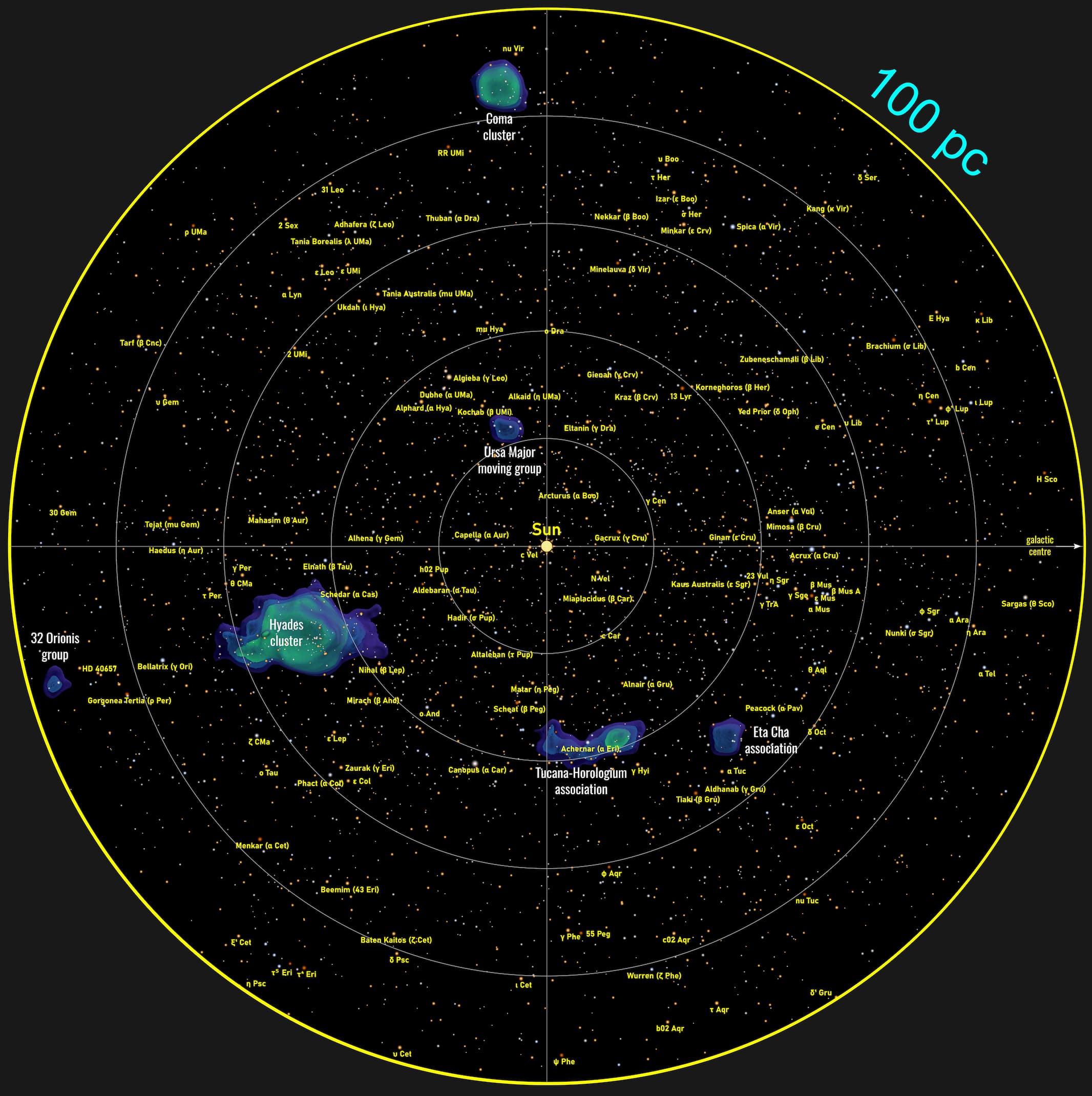 The Solar Neighborhood targets a volume-limited sample of stars with the goals of cataloging low-luminosity stellar populations. These will be the brightest of each type, and we will be able to determine accurate stellar parameters from the combination of spectroscopy, photometry, and parallaxes. In addition, we will be able to get very good constraints on binarity from the combination of radial velocity (RV) spectroscopy and Gaia astrometry. The most complete census will be within 100 pc. However, there are few stars earlier than K that close to the Sun and therefore a sample of stars to 250 pc will also be targeted to enable a reliable match to higher luminosity populations.
The Gaia DR2 parallaxes are noticeably less accurate in highly crowded regions. Therefore for stars close to the Galactic plane and the Magellanic Clouds. there is an additional quality cut on astrometric noise imposed.
Cartons
Solar Neighborhood Census Cartons for Target Generation v0.5.3

The astrometric information for these cartons comes from Gaia DR2, while the photometry comes from either Gaia DR2 or 2MASS.
The definition of dense regions is as follows, with the Galactic longitude b and Galactic latitude l in degrees:
Galactic Plane:

l<=180 and b<-0.139*l + 25 and b>0.139*l-25 OR
l>180 and b>-0.139*l + 25 and b <0.139*l – 25

SMC: sqrt( (l-303.2)2 + 2*(b+44.4)2 ) < 5
LMC: sqrt( (l-280.3)2 + 2*(b+33.0)2 ) < 8
Depending on the brightness of the targets in optical and infrared, they could be observed by APOGEE, BOSS, or both. The cartons are:
mwm_snc_100pc_apogee

parallax-parallax_error>10
H < 11
if in the dense regions defined above, astrometric_excess_noise < 2

mwm_snc_100pc_boss

parallax-parallax_error>10
G bright enough to appear in Gaia DR2
if in the dense regions defined above, astrometric_excess_noise < 2
To observe stars of type G and earlier, we extended the distance probed to 250 pc and required an absolute magnitude MG< 6
mwm_snc_250pc_apogee

G+5 * log10(parallax / 1000) + 5 < 6
parallax – parallax_error > 4
H < 11
if in the dense regions defined above, astrometric_excess_noise < 2

mwm_snc_250pc_boss

G + 5 * log10(parallax / 1000) + 5 < 6
parallax – parallax_error > 4
G bright enough to appear in Gaia DR2
if in the dense regions defined above, astrometric_excess_noise < 2
Cadences
bright_1x1 for targets in the the _apogee cartons
bright_2x1 for the targets in the _boss cartons with G < 16
dark_2x1 for the targets in the _boss cartons with G > 16